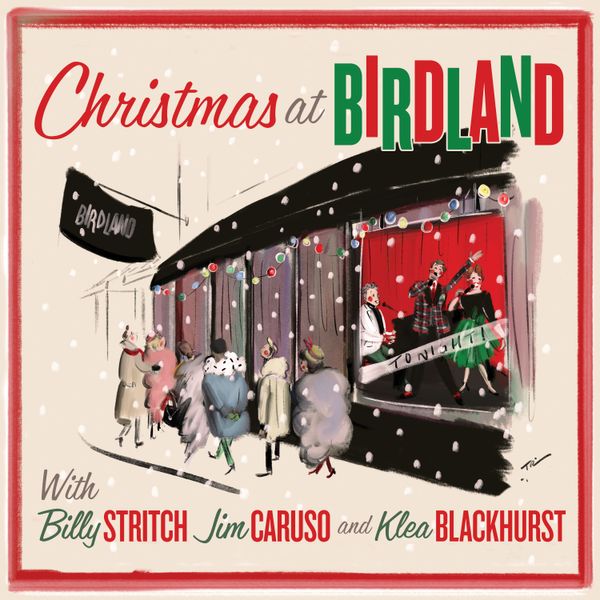 Nashville, TN (October 18, 2019) – Christmas at Birdland featuring Billy Stritch, Jim Caruso and Klea Blackhurst, releases today at retail and digital outlets worldwide. The highly-anticipated project is the first release on Club44 Records, a new label which aims to highlight the Broadway, cabaret and jazz genres and provide a home for artists who represent this timeless music. Drawing on their individual strengths, the production team of Billy Stritch and Wayne Haun bring the best of New York and Nashville together in this landmark recording. 
Billy, Jim and Klea each bring unique talents to the table making this trio unstoppable. When joined with the stellar musicianship of bassist Steve Doyle and drummer Daniel Glass, everything you want in a holiday performance is present: musicality, versatility, familiarity and fun. 
The first of several delightful surprises on Christmas at Birdland comes on the very first track when special guest Donny Osmond sings with the trio on "It's the Holiday Season." Jim shares, "The concept for our original Birdland show was to give a sense of the great 60's and 70's Christmas TV specials we grew up loving. Klea grew up in Utah, obsessing over her neighbors, the Osmonds. Billy was fascinated by the tight harmonies they sang. And as an only child, I wanted nothing more than to be part of a family band! Donny's name came up at our first album meeting. I texted him, and within two minutes, received the one word response, 'Yes!' With all he has going on in his life and career, he was incredibly generous to lend us his time and considerable talents!" 
Saxophonist Dave Koz is featured on two songs, "Silent Night/A Child is Born" with Klea, and "The Christmas Song (Chestnuts Roasting on an Open Fire)" with Billy. "About 20 years ago, Jim and I met the great sax player Dave Koz," reveals Billy, "and he became an instant friend. When we were starting to put the album together, we wondered if perhaps Dave would be gracious enough to lend his talents to a couple of cuts. All we had to do was call him and he was there the next day! Working in the studio with him was so much fun and because I know him so well it was so easy to convey exactly the feeling I was going for. Having his incredible and soulful playing is such a beautiful asset to the finished product!" 
A show-stopping moment on the project is Klea's rendition of Cy Coleman's "He's Stuck in the Chimney Again." This treasure of a song was unearthed at Notable Music and had never been recorded – until now. Being able to premiere this song is a highlight for the group. Billy Stritch writes, "One of the great advantages of moving to New York in the late 80s was the fact that I got to meet so many terrific composers like Jule Styne and Sammy Cahn. The friendship that means the most to me is the one that I forged with the great Cy Coleman. We all know Cy was the writer of a dozen fabulous Broadway shows and dozens of wonderful hit songs, and the fact that he took me under his wing was a thrill and an honor for me. After Cy's untimely death, I went deeper into his catalog and was able to unearth some wonderful unrecorded gems for a show that I put together in New York. One of the songs is "He's Stuck in the Chimney Again," a delightful holiday song that he co-wrote with Floyd Huddleston. It appeals to the child in all of us with that humor and wonderful imagery, and we are thrilled to be giving it its very first recording after all these years!" 
Fans will love the familiar tunes and playful moments as the energy and fun of the stage show, A Swinging Birdland Christmas, is fantastically captured in this recording. The live show celebrates its tenth year at Birdland Jazz Club this year, December 21-25. With a history of sold-out performances, patrons will want to plan to get tickets early for this annual event. "It's thrilling to be part of a yearly event that has become many people's holiday tradition!" reflects Jim. "We feel like the Rockettes! Some folks haven't missed a single year! The show has certainly become a beloved part of our holidays, too. Billy, Klea, Daniel, Steve and I always trade presents and celebrate with a huge feast on Christmas night. For me, it's being part of the family band I always hoped and prayed for." 
Co-producer and Club44 Records co-owner Wayne Haun feels that they have achieved his vision with this project. "A Swinging Birdland Christmas has been a New York mainstay for ten years now. As successful as the show has been, we knew it was time to capture that spirit and energy in the recording studio." 
Billy echoes that sentiment, "I can't tell you how thrilled I was when Wayne Haun told us that he wanted to take us all into the studio and record our Christmas show for posterity. We couldn't have imagined how well taken care of we would be by him and the whole crew at Club44 Records." 
Christmas at Birdland is distributed internationally by Sony/Provident. 
TRACK LISTING:
Christmas is Starting Now / It's the Holiday Season 
The Christmas Waltz
Manhattan in December
You Meet the Nicest People
Mister Santa 
He's Stuck in the Chimney Again
Little Jack Frost Get Lost
Caroling, Caroling (instrumental)
It Happened in Sun Valley / Snow
Silent Night / A Child Is Born
Winter Weather / Winter Night
The Christmas Song (Chestnuts Roasting on an Open Fire)
Kay Thompson's Jingle Bells 
 
ABOUT BILLY STRITCH: 
Billy Stritch is one of the premier singer-pianists on the New York and national jazz and cabaret scene. His most recent nightclub act "Billy Stritch Sings the Mel Tormé Songbook" earned rave reviews from the New York critics. Stritch has appeared in cabaret venues across the nation as well as concert performances at the London Palladium, NHK Hall in Tokyo and Rio de Janeiro's Municipale Auditorium. In New York, he has performed at Lincoln Center and Carnegie Hall and was onstage in the 2001 Broadway revival of 42nd Street, which starred Christine Ebersole. Billy is also a songwriter and arranger, and his composition "Does He Love You" was recorded by Reba McEntire and Linda Davis. The single reached the number one spot on the Billboard Country chart, winning a Grammy Award and selling over five million copies along the way. He has arranged for many top performers and is a frequent collaborator with Liza Minnelli, having written the arrangements for Minnelli On Minnelli at the Palace Theater, Liza's Christmas at Town Hall, and was musical supervisor and pianist for the Tony Award-winning, Liza's At The Palace. Last year, he performed as musical director/pianist on dozens of dates with Tony Bennett.  Billy has played and sung on numerous television shows including "The Rosie O'Donnell Show," "Oprah," "The CBS Morning Show," "The Today Show" and "Inside The Actor's Studio". He is the winner of the Nashville Music City News Award, a BMI Song of the Year Award, and four awards from the Manhattan Association of Clubs and Cabarets. 
ABOUT JIM CARUSO: 
Jim Caruso made his Broadway debut alongside Liza Minnelli in the Tony Award-winning Liza's At The Palace!, singing, dancing and celebrating the music and arrangements of Kay Thompson and the Williams Brothers.  He has won six MAC Awards for his nightclub appearances, four BroadwayWorld Awards, has performed with the New York Pops in a tribute to Kander & Ebb, with Rosemary Clooney celebrating Bing Crosby, and singing the songs of Hope & Crosby with Michael Feinstein, all at Carnegie Hall.   Jim was honored to sing with Barbara Cook, Lauren Bacall and a bevy of Broadway stars at President Clinton's First State Dinner at the White House. For seventeen years, he has hosted the weekly showbiz bash "Jim Caruso's Cast Party" at Birdland, Town Hall, Jazz at Lincoln Center and across the country. He has produced over 800 Broadway at Birdland concerts, and his weekly radio segment, "A New York Minute with Jim Caruso" can be heard on Legends Radio 100.3 FM. His two CDs, "The Swing Set" and "Caruso Live and In Person" are available online. 
ABOUT KLEA BLACKHURST: 
Klea Blackhurst is an actress, singer and comedienne known for her award-winning tribute to Ethel Merman, Everything The Traffic Will Allow. Most recently she appeared Off-Broadway with Hayley Mills in the comedy, Party Face, at City Center Stage 2. She starred in Hazel during its world premiere production at Drury Lane in Chicago, as Dolly Levi in the highly acclaimed Fiftieth Anniversary production of Hello, Dolly! at The Goodspeed Opera House. She's performed with symphony orchestras and in theatrical productions across the country and abroad including the London Palladium presentation of Jerry Herman's Broadway with Angela Lansbury, the Pittsburgh Symphony Orchestra tribute to Marvin Hamlisch,, the Atlanta Symphony Orchestra, 15 Mabel Mercer Foundation Cabaret Conventions, New York's Town Hall, Jazz at Lincoln Center, Carnegie Hall, New York's 92nd Street Y Lyrics & Lyricists, The Chicago Humanities Festival and as Ado Annie in the BBC Proms concert of Oklahoma! in London's Royal Albert Hall. On television she has appeared in Ryan Murphy's Pose and The Knick, on Showtime. She spent two seasons as former prosecutor, Shelby Cross, on the IFC Channel comedy series, Onion News Network. She's done the requisite Law and Order: SVU, spent a week on Sesame Street and was a musical guest on The Rosie O'Donnell Show. 
ABOUT CLUB44 RECORDS: 
Based in the Music City of Nashville, Tennessee, Club44 Records is an independent label that specializes in the Cabaret, Broadway and Jazz genres, as well as the preservation of the American Songbook. Their premier studio release, Christmas at Birdland, drops October 18, 2019 and features award-winning artists Jim Caruso, Billy Stritch and Klea Blackhurst. Club44 Records has additional projects scheduled for early 2020 and is excited to serve as the creative home for many singers, instrumentalists and writers. They are distributed worldwide through Provident/Sony Distribution. 
www.club44records.com