CLUB44 RECORDS SIGNS TONY AWARD-WINNING BROADWAY STAR STEPHANIE J. BLOCK FOR HER DEBUT HOLIDAY ALBUM "MERRY CHRISTMAS, DARLING" SET TO BE RELEASED NOVEMBER 3, 2023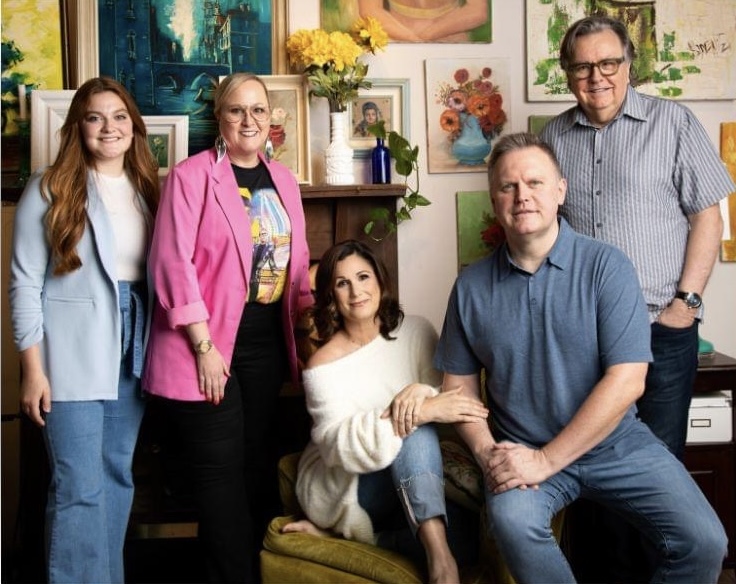 Pictured L to R: Haley Schattschneider, Mary Alice Lovelace, Stephanie J. Block, Wayne Haun, Joel Lindsey 

Club44 Records is pleased to announce the signing of the Tony Award-winning Broadway star Stephanie J. Block to its illustrious roster of artists representing the Great American Songbook. Her debut holiday album Merry Christmas, Darling – featuring both secular and sacred seasonal classics, including a new song written for her by Club44 co-founder Wayne Haun and Tony-winning lyricist David Zippel – will be released on November 3, 2023. The album features a duet with her husband, fellow Broadway star Sebastian Arcelus, as well as a duet with their daughter Vivienne Arcelus. The album is produced by Wayne Haun and Stephanie J. Block, with Joel Lindsey and Sharon Terrell serving as executive producers. Starting Friday, October 6, customers who pre-save or pre-add the album will be able to stream or download the single "Sleigh Ride." Pre-add or pre-save at https://orcd.co/merrychristmasdarling.
Stephanie J. Block has established herself as one of the most relevant and versatile voices in contemporary musical theatre. She won the 2019 Tony Award for "Best Leading Actress in a Musical," as well as winning the Drama Desk and Outer Critics Awards, for her star turn in The Cher Show. Block was also recognized for her role of Trina in Lincoln Center Theatre's 2016 revival of Falsettos garnering her the Tony Award, Drama Desk and Outer Critics nominations. In 2013 she was recognized with both the Drama Desk and Tony Award nominations for "Best Leading Actress in a Musical" for her portrayal of Alice Nutting/ Edwin Drood in The Roundabout Theater's production of The Mystery of Edwin Drood.
Other Broadway credits include Reno Sweeney in the 2011 Tony Award-winning revival of Anything Goes and 9 to 5: The Musical, for which she earned a Drama Desk nomination. She created the roles of Grace O'Malley in The Pirate Queen and Liza Minnelli in The Boy from Oz (opposite Hugh Jackman). Ms. Block is known for her portrayal as Elphaba in the Broadway company of Wicked, as well as originating the role in the First National Tour for which she won numerous awards including the Helen Hayes Award for "Outstanding Actress in a Musical."
Stephanie comments, "I mentioned to my daughter that I needed to write a little press blurb about my upcoming Christmas album and she responded 'OUR Christmas album.' My initial thought response was to laugh and shake my head, but after a brief moment I realized her comment was exactly right. My wish is for Merry Christmas, Darling to feel like it belongs to everyone. It's been created in love and collaboration and a hope that is for all to share in."
Wayne Haun, the album co-producer and label co-founder, adds, "I've always been amazed at the way Stephanie interprets a song. The attention to the lyric, the timing, the emotion are all perfect. Until recently, I'd only seen her perform live, but I can now say she brings the same interpretation and emotion into the studio. She brings songs like "Sleigh Ride" and "What Child Is This?" a whole new life. She knows what the song needs and she gives it her all."
Club44 Records – based in the Music City of Nashville, Tennessee – is an independent label which aims to highlight the Broadway, cabaret and jazz genres, preserve the American Songbook and provide a home for artists who represent this timeless music. Following their premiere studio release, Christmas at Birdland, the label has presented Love Notes, the latest album from Tony Award and Golden Globe winner Linda Lavin; Billy's Place from Grammy Award winner Billy Stritch; Act One from rising vocal star Nicolas King; Jane Monheit's Come What May, which celebrates the international Billboard #1 pop/jazz vocalist's 20th anniversary as a recording artist; Spencer Day's Broadway by Day, highlighting creative arrangements of theater standards; Carol Sloane's Live at Birdland, an intimate set captured at the legendary venue; rising Broadway star Julie Benko and husband Jason Yeager's Hand in Hand, an assortment of beloved songs; and Christine Ebersole's After the Ball, a collection of songs reflecting on life, love and family. Club44 Records also serves as the creative home of many other singers, instrumentalists and writers. All releases are distributed to digital and retail outlets worldwide via The Orchard/Sony Music. For more information, visit www.Club44Records.com