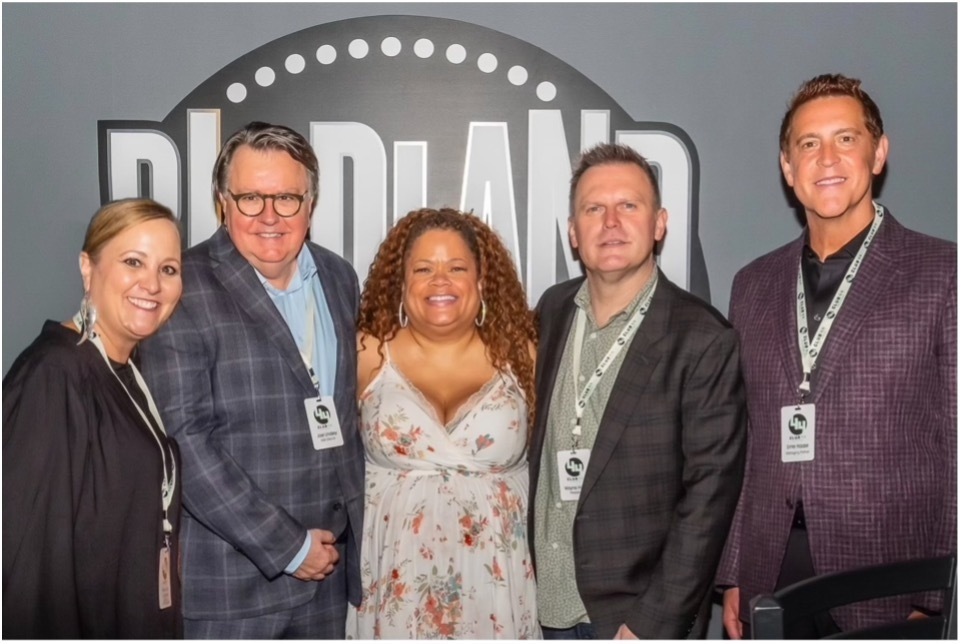 Pictured L to R: Mary Alice Lovelace, Joel Lindsey, Natalie Douglas, Wayne Haun, Ernie Haase
NATALIE DOUGLAS PARTNERS WITH CLUB44 RECORDS
(Nashville, TN – August 30, 2023) Club44 Records is pleased to announce the signing of Cabaret chanteuse Natalie Douglas to its exclusive roster of artists representing the Great American Songbook. Natalie is not only a fixture on the New York scene, but she also travels the world with her legendary tribute shows, paying homage to some of the greatest singers of our time (Nina Simone, Stevie Wonder, Dolly Parton, Joni Mitchell, Roberta Flack). These shows spotlight Natalie's range and arc as an entertainer. She has performed over 75 concerts at her home base, the legendary Birdland Jazz Club in New York City, where her picture hangs on the iconic Birdland Wall of Fame.
A passionate fan of the music she performs, Natalie is also an advocate and teacher of this artform, imparting her expertise to a whole new generation of singers and musicians. From her work as the Education Director with the Mabel Mercer Foundation, as well as her work as a master instructor with the Jim & Elizabeth Sullivan Foundation and the Eugene O'Neill Cabaret & Conference, Natalie uses music to spread her message of love, diversity and inclusivity to schools and colleges around the country.
Natalie expressed her excitement about becoming a part of the Club44 Records family, "I couldn't be more thrilled to join forces with the team at Club44 in making a brand-new record. After hearing such great things from so many of my label mates, many of whom are longtime friends, I'm not surprised to find everyone at the label is as kind and delightful as they are talented. Just wait till you hear what we're cooking up!" 
Award-winning producer Wayne Haun is at the helm of this project. Wayne shared, "I first discovered the music of Natalie Douglas while browsing the CD section at Colony Music. I'm a big fan of Nina Simone, and Natalie had recorded a tribute to Nina at Birdland. I had to have the recording, and it did not disappoint! From there, I discovered her other music and became a big fan. I even planned a New Year's Eve trip to New York just to see her perform live. I had always hoped for an opportunity to produce her and never thought it would happen, so to say this is a dream come true is not a cliché. It's a very true and very cool reality."
A&R Director Joel Lindsey chimed in, "Natalie epitomizes the caliber of artist we at Club44 desire to partner with. Her musicality and range are impressive, but her integrity and showmanship separate her from most singers out there. This is a very special record, and I'm so happy to share this music with the world!" 
Natalie's first single, "Trust in Me," will be available worldwide via all streaming platforms on September 29, 2023, with a full album release in early 2024. For more information about Natalie Douglas, go to www.NatalieDouglas.com.
Natalie Douglas—Multi-award winning artist Natalie Douglas is a 21st-century vocalist with a strong foundation in the Great American Songbook and an equally fierce devotion to the modern jazz, blues, rock and country influences of her childhood. Like her idol, Nina Simone, Natalie is drawn to lyrics that tell a compelling story no matter what genre. A thirteen-time MAC Award Winner whose international performances have taken her from concert halls to theaters to intimate clubs and everything in between, she has produced over 75 concerts at her musical home, Birdland Jazz Club, in New York City. As an actor, she has appeared in 18 editions of "The Atrainplays," (a 24-hour birth to performance event) at the Neighborhood Playhouse, The Peter Sharp Theatre and New World Stages and off-Broadway in "The People vs. Mona," by the writers of Pumpboys & Dinettes. She has appeared in ABC's "Cupid" and can be seen with her gorgeous husband showing off the good education her parents paid for on The Discovery Channel's "Cash Cab." Natalie's music is available via retail and streaming outlets worldwide. 
CLUB44 RECORDS— Based in the Music City of Nashville, Tennessee, Club44 Records is an independent label which aims to highlight the Broadway, cabaret and jazz genres, preserve the American Songbook and provide a home for artists who represent this timeless music. Following their premiere studio release, Christmas at Birdland, the label has presented Love Notes, the latest album from Tony Award and Golden Globe winner Linda Lavin; Billy's Place from Grammy Award winner Billy Stritch; Act One from rising vocal star Nicolas King; Jane Monheit's Come What May, which celebrates the international Billboard #1 pop/jazz vocalist's 20th anniversary as a recording artist; Spencer Day's Broadway by Day, highlighting creative arrangements of theater standards; Carol Sloane's Live at Birdland, an intimate set captured at the legendary venue; rising Broadway star Julie Benko and husband Jason Yeager's Hand in Hand, an assortment of beloved songs; and Christine Ebersole's After the Ball, a collection of songs reflecting on life, love and family. Club44 Records also serves as the creative home of many other singers, instrumentalists and writers. All releases are distributed to digital and retail outlets worldwide via The Orchard/Sony Music. For more information, visit www.Club44Records.com