Slow And Steady Won This Race…
by Bobby Patrick Sep. 30, 2022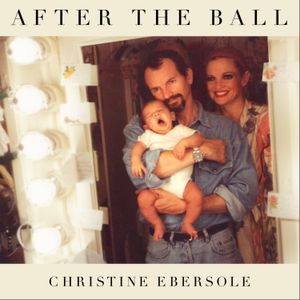 Heigh Ho, dear lovely rainbow tribe, Bobby Patrick, your rainbow reviewer is back in CD-Land to offer another broken-down breakdown of a new music release. So, strap in and get ready, as Bobby goes on the record ABOUT the record. 
This week's release, DAHLINGS, is by that Goddess, that Diva, The Very Miss Christine Ebersole. Anyone who loves The Broadway does (or should) love this talented two-time Tony taker. Since 1975 (you do that math, my lambs, and leave the lady alone) she has racked up 14 shows ON The Broadway, 3 national tours, and half a dozen Off-The Broadway shows, not to mention the attention paid to her by Tony, The Circle, The Desk, The League, The Outer Circle, and twice by somebody named Obie. Add to all of this a solo singing career that has taken her across the planet into concert halls, theatres, the best cabarets, and probably a few dive bars (a girl's gotta eat) and her many trips into the recording booth (sometimes with her pal and Broadway World fave Billy Stritch) and it leaves Little Bobby to wonder - How is she still alive? That's all a heck of a lot of work, and we should all be oh-so-glad. Which brings us to her latest recorded venture AFTER THE BALL...This collection of 10 ballads by the likes of Kern, Mercer, Kern & Mercer, Kern & Harbach, Kern & Fields, the law firm of Hammerstein, Hart, Rodgers & Romberg, and even Truman Capote is the collection of ballads you didn't know you needed, Bobbyfans. Kicking off the album with her title track AFTER THE BALL mashed up with THE WAY YOU LOOK TONIGHT, La Ebersole lifts the songs up with her pliable and resonant soprano, while singing them pretty much just as written. The instrumental arrangements by Music Director/Keyboardist/Producer Lawrence Yurman tinkle delightfully under her vocals, never dominating. It is this arrangement that makes the marriage of these two songs from two different times and two different time signatures so delightful. AFTER THE BALL (1891) is an old-fashioned 3/4-time waltz while THE WAY YOU LOOK TONIGHT (1936) is a 4/4 (in cut time) number from the big band era, and yet Yurman blends them seamlessly, here, while the lady polishes them with her voice. The album is actually full of interesting choices in notes, arrangements, chords, and rhythms, like her borderline "odd" take on the Gershwin tune S'WONDERFUL - so strange, with the lite pulsating in the keys and an almost tentativeness to her voice, in the beginning, giving way to bigger tone poems later on. That, coupled with an arrhythmic beat and alternate notes, creating interesting diminished chords, again and again - tension is the word here - as this lite little dance number transforms into a ballad with real DRAMA, using her whole voice and a heart that is working overtime. It feels and sounds like something an Idina Menzel might do, but Ebersole's voice grounds it, even in the louder sections, with its simplicity. Those diminished chords at the end leave one with a divine sense of longing. VERY DIFFERENT.
Bobby's shout-out as the highlight of the album is cut number 8, another mash-up of two songs you didn't know needed to go to the prom together. With Billy Barnes' (HAVE I STAYED) TOO LONG AT THE FAIR and Leiber & Stoller's READY TO BEGIN AGAIN, what Christine delivers is a truly interesting pairing of Barnes' traditional major key melody standard with Leiber & Stoller's almost Kurt Weill-esque minor key ballad. This major & minor key juxtaposition is not just in the notes but in the light and dark of both stories being told: the tuneful FAIR, with its sad message of personal obsolescence, joined with the darker sounds of BEGIN AGAIN, with its story of a woman who is grabbing her wig so she can go out and grab some more life... The dark and light in BOTH songs is an experiment that works. This is truly the best of the album. 
Bobby could go on and on through all 10 tracks of this one, but why? You get the idea, my lambs and you know what comes now: Our Full...5 Out Of 5 Rainbows - Pick this one up wherever you pick up your tunes. 
The Other Responsible Parties On After The Ball Include: 
Al Houghton, Chris Montgomery, And Charley Shealy Of Dubway Studios, New York City 
For The Tracking And Vocals Recording 
Musicians: 
Lawrence Yurman (Piano, Music Direction & All Arrangements) 
Mairi Dorman-Phaneuf (Cello) 
John Benthal (Guitar & Banjo) 
Larry Saltzman (Guitar On "Autumn Leaves") 
Entire Album Produced By Ebersole & Lawrence Yurman 
Christine Has An Official Fan Page On Ye Olde Facebook: HERE