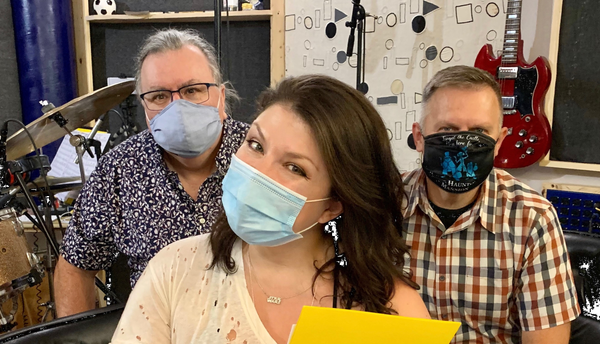 Nashville, TN (November 3, 2020) – Club44 Records is thrilled to announce that Jane Monheit has joined their roster of artists. As an artist, Jane is well known for her sultry jazz vocals and impressive range. Jane is currently in the studio working on a new album, her twelfth, set to release March 2021. 
"I could not be more excited to have signed with Club44," shares Jane. "The experience so far has been unbelievable. There is so much heart, so much kindness, such a feeling of family at this label! It's been nearly five years since my last album was released, so the timing couldn't be more perfect...so excited for our future together!" 
After years in the music industry, Club44 Records co-owner Joel Lindsey considers working with a critically-acclaimed artist like Monheit an honor. "About twenty years ago, I was cruising down a southern California freeway and popped a CD of a new artist named Jane Monheit into my car's stereo," recalls Joel. "Immediately, I knew hers was a voice I would be coming back to time and time again and, indeed, her music has been a mainstay in my house ever since. When Jane lends her velvet signature to a song you've heard a hundred times before, you swear that it's a brand new composition. There is no one like her. At Club44 Records, we are so excited and privileged to be in the studio preparing for the first Jane Monheit release in over five years. I can't wait for old fans and new ones to hear what she's working on!" 
"Working with Jane has been on my bucket list for a long time now," expresses Wayne Haun, who is co-producing this new album. "Her interpretation of a song is like no other. She is truly an American treasure." 
Jane's upcoming project will be available at retail and digital outlets worldwide. Follow Jane on Facebook, Instagram and Twitter enjoy her music on YouTube, Spotify, Apple Music and Pandora.
###
ABOUT JANE MONHEIT: 
Blessed with "a voice of phenomenal beauty" (Stephen Holden, New York Times), Jane Monheit has had plenty of milestone moments in establishing herself as one of today's best and most important vocalist-musicians. She was raised in Oakdale, New York, on Long Island's South Shore and spent her childhood summers at the Usdan Summer Camp for the Arts, from which she received a distinguished alumna award (other notable alumni include Natalie Portman, Mariah Carey, and Taylor Dayne). 
Jane went on to study voice at the Manhattan School of Music with Peter Eldridge, a founding member of the vocal group New York Voices. She graduated with honors in 1999 and received the William H. Borden Award for outstanding accomplishment in jazz. It was at MSM that she met her husband, drummer Rick Montalbano. They married soon after college. 
As a critically acclaimed vocalist, Jane continues to perform with her three-piece band, currently consisting of husband Rick Montalbano (drums), Michael Kanan (piano) and Neal Miner (bass). Jane and Rick have one son and make their home in California.
ABOUT CLUB44 RECORDS: 
Founded in 2019 and based in Music City (Nashville), Tennessee, Club44 Records is an independent label that specializes in the cabaret, Broadway and Jazz genres, as well as the preservation of the American Songbook. As the creative home for many artists, the Club44 roster includes Jane Monheit, Linda Lavin, Billy Stritch, Jim Caruso, Klea Blackhurst, Brian Eads and more. All releases are distributed worldwide through Provident/Sony Distribution.