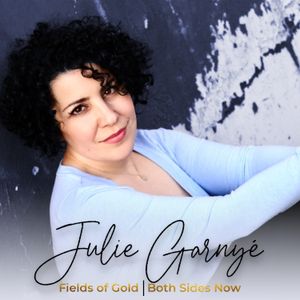 Nashville, TN (October 15, 2020) – Club44 Records is set to release a brand new single by the wonderfully talented Julie Garnyé. "Fields of Gold / Both Sides Now" was originally arranged for Garnyé by Lance Horne. The arrangement features eight cellos, recorded by Eleanor Norton, and one vocal. Garnyé and Norton appeared on Jim Caruso's online show "Pajama Cast Party" on August 3, and the performance caught the attention of Club44 owners. 
"This beautiful new single by Julie Garnyé is the most wonderful combination of styles, textures and sheer musicianship," shares Club44 Records co-owner Joel Lindsey. "I will never forget hearing her sing it for the first time and thinking 'I want to hear that over and over again.' I can't wait for the world to hear it!" 
For Julie, this recording filled a void left by the cancelations of live performances this year. "It all started when my friend, Drama Desk Award Winner Rene Ruiz, and I were talking about how we missed recording music for the love of it during this unprecedented time," reflects Garnyé.  "He was the one who gave me the idea to record Sting's 'Fields of Gold.' I immediately contacted my two incredibly talented friends, musical genius Lance Horne and the brilliant cellist Eleanor Norton, to arrange a version of the song for me to record at home. Around that same time, my friend, Jim Caruso, invited me to perform on his hugely popular weekly online variety show, Pajama Cast Party, and I knew immediately that I had to surprise him and premiere the song there. Being contacted by Club44 Records to turn it into a single was so unexpected and amazing - everything surrounding this song and this process has been an absolute joy!" 
This arrangement of "Fields of Gold" was combined with Joni Mitchell's popular song "Both Sides Now" to create a medley like no other. "Fields of Gold / Both Sides Now" will be released digitally on all streaming music platforms on November 6. 
### 
ABOUT JULIE GARNYÉ: 
Julie Garnyé is an actress, singer, voiceover artist, writer, producer and director. She was most recently seen as an original cast member of the first national tour of the Broadway hit Come From Away. She has played the role of Bulda/Queen Iduna in Frozen Live at the Hyperion Theatre at the Disneyland Resort and is also the singing voice of the fairy Lyria in the Tinker Bell series of films for Disney Animation. 
Julie's most recent TV appearance was as an original cast member of FATWA! The Musical during season nine of Curb Your Enthusiasm. Her theatre career highlights include Grizabella in the national tour of the musical CATS, Broadway's HAIR in Concert and CHESS in Concert. She was also in the Summer Musicals appearances at The Hollywood Bowl: Les Misérables, Chicago and Mamma Mia!. 
Ms. Garnyé has sung with numerous symphony orchestras, including the San Diego Symphony, The Dallas Pops and The LA Philharmonic and has performed with such musical greats as Josh Groban, Carole King, Stephen Schwartz, Kristin Chenoweth and jazz legend Dave Brubeck. She is the 2020 Los Angeles SCENIE Award Winner for Performance of the Year (Jenny Steinberg in It Shoulda Been You). 
LINKS: 
http://www.juliegarnye.com 
http://www.facebook.com/OfficialJulieGarnye 
http://www.instagram.com/juliegarnye 
http://twitter.com/JulieGarnye 
http://www.youtube.com/user/JulieGarnye 
ABOUT CLUB44 RECORDS: 
Founded in 2019 and based in Music City (Nashville), Tennessee, Club44 Records is an independent label that specializes in the cabaret, Broadway and Jazz genres, as well as the preservation of the American Songbook. As the creative home for many artists, the Club44 roster includes Linda Lavin, Billy Stritch, Jim Caruso, Klea Blackhurst, Brian Eads and more. All releases are distributed worldwide through Provident/Sony Distribution.